Visual Diversity Homes is a true family owned company based on Queensland's Gold Coast, and building homes throughout the southern side of the Brisbane River, Gold Coast and Northern New South Wales. Visual Diversity Homes has established itself as the builder that delivers superior quality homes as promised and guaranteed. The company is owned and operated by Tony and Kristie Smith. The business has grown from a simple, humble, grass roots beginning, to now being acknowledged as one of the most professional building companies in South East Queensland.
This progression has been as a result of demonstrating a genuine and sincere understanding of what an important step building a new home is for their valued clients.
Visual Diversity Homes offers superior high quality homes and short build times, and while Visual Diversity Homes is big enough to be listed as a project builder, we also maintain a high level of personal service and attention to detail for all much valued clients.
Visual Diversity Homes pricing policy provides clients with a detailed list of all inclusions. This process offers our customers "Visual Complete" homes rather than the "everything is extra policy that many competitors offer. Visual Diversity Homes prefers to start with a fully inclusive price and then remove items (if required) to fit your budget. We strongly believe in an "apples for apples" comparison, and not the "everything is extra" policy that is adopted by so many unscrupulous competitors. Visual Diversity Homes has a variety of innovative home design plans to suit a wide choice of lifestyles and families. Most of these home designs and plans can also be adapted to suit sloping land or odd shaped blocks. Visual Diversity Homes also has plans to suit very small and, or narrow blocks. We also have designs for homes for dual living and duplex blocks.
If we cannot find a standard plan to suit your needs, Visual Diversity Homes will adjust a plan to suit or completely custom design a home just for you.
Due to a very high level of professional service and reputation for quality homes at exceptional prices, Visual Diversity Homes has established working relationships with a number of land agents and developers, which also ensures we are able to assist you in the locating of a suitable home site for you.
A "Visual Complete" Package
With a completely individual approach to the pricing structure of a home, Visual Diversity Homes starts pricing with a fully inclusive price and then removes any items that you may wish to do for yourself such as fencing or landscaping etc. By doing this, you will know the real cost of your new home that is fully finished, or "Visual Complete" rather than the "everything is an extra" policy adopted by many competitors.
Superior Quality
Along with an in depth quality assurance system, a Visual Diversity Director will  personally inspect your home prior to walkthrough, then they inspect it with you. A creditable handover inspector is then engaged to supply an inspection report at completion. This gives you the peace of mind knowing that the final product will be display quality finish.
We Explain all in detail
As qualified builders, both Tony and Dan Smith can explain the technical detail of your home and listen to your concerns or queries and explain the construction process in plain language that you can understand.
Difficult Block?
With 27 regular plans and over 100 stock plans suiting all different block sizes from narrow allotment to sloping and odd shaped land, Visual Diversity Homes has a policy that if we can't find what you're looking for we will design it personally for you. After all, only you know what kind of home will suit your lifestyle.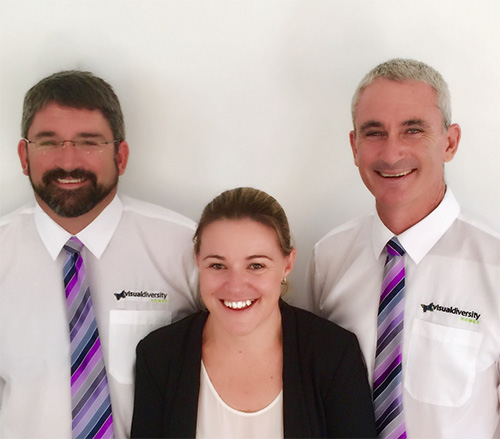 We Listen to You
We understand that everyone lives a different lifestyle and we listen to what you need to make the home right for you, whether it be a wider driveway for an extra car, or a bigger kitchen to enable the family to gather without crowding you, we can do it all.